So the
81st Academy Awards
 have come and gone, again! The marriage of movies and fashion on a single evening in February has been a winter highlight for me for quite some time! This year's show was a little different - five past Oscar winners introducing the nominees in their category for the best actor/actress and best supporting actor/actress categories. I liked that better than the year's previous winners presenting video montages and the nominees names. It was more of a personal tribute for each nominee - and who doesn't like to hear nice things being said about them? I'd want it that way if I were up for best actress or best supporting actress!
I was pleased with most of the winners. Slumdog Millionaire was a big winner with eight awards. I actually saw and enjoyed the movie, so it was fun to see Bollywood take Hollywood by storm. I saw The Reader on Sunday, so I was also pleased that Kate Winslet won the award for best actress. I was pulling for Mickey Rourke after seeing The Wrestler on Friday and this
interview
he did on Charlie Rose. He just seems like an interesting guy who's been on quite a personal journey. My second choice was Sean Penn, so although I wanted Mickey to win, I was happy that it was Sean who beat him. He actually gave Mickey a cool shout out at the end of his acceptance speech.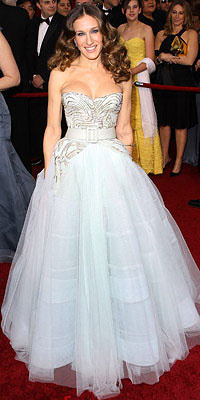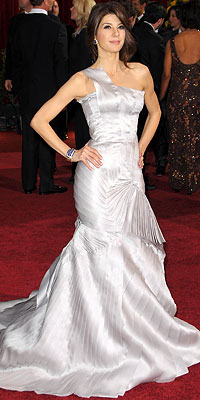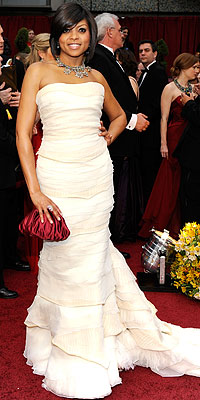 My dress picks. I like the 50's glamour feeling of Sarah Jessica Parker's Dior Haute Couture dress. Marisa Tomei's pearl gray Versace was beautiful, a layered orgami-like creation. Taraji P. Henson wore a deliciously textured/layered Roberto Cavalli gown that reminded me of frosting peaks.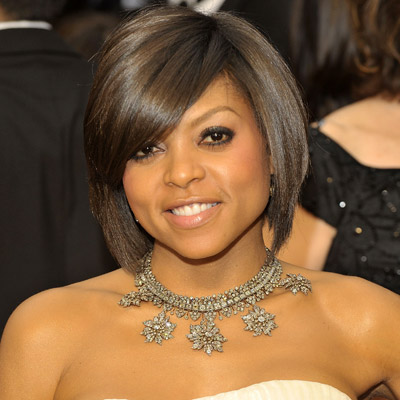 Favorite jewels! Taraji P. Henson wore this Fred Leighton necklace that was simply stunning!